Introducing EHN003 new shooting electronic earmuffs. In shooting range the blasts of firearms are intensive noise over 140dB, which is over the maximum noise level our ears can deal with and will cause permanent hearing damage, thus the hearing protection earmuffs is one of the must-have gear in your range bag. Compared with general earmuffs and earplugs, electronic hearing protection earmuffs adopt sound-circuit technology that compresses the noise above a certain threshold and amplifies ambient sound below that threshold, therefore, it not only can protect shooters from gunshot noise but also allows to hear conversations.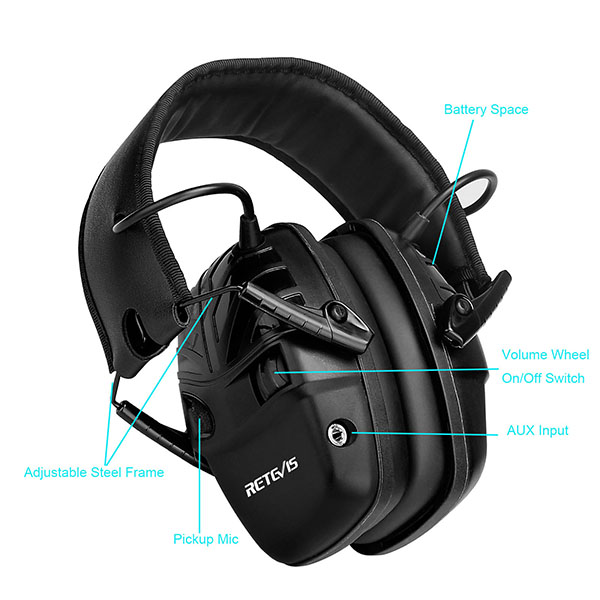 What are the features of the EHN003 electronic shooting hearing protection earmuffs?
1. Low-profile and foldable design
In order to not get in the way of the gunstock and not interfere with the cheek weld, the ear cups of the earmuffs adopt the low-profile design. With the foldable design, it saves space in your range bag and convenient to be carried,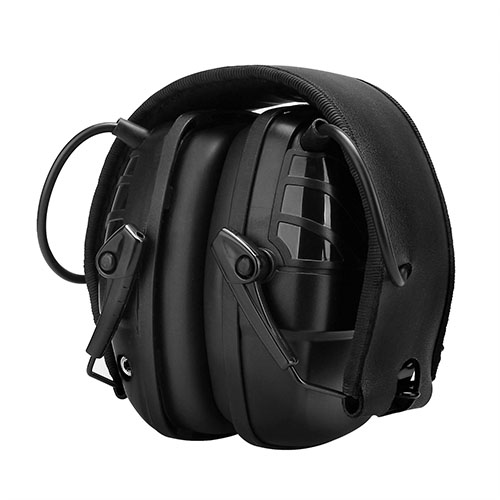 2. Two recessed Omni-microphone microphone design
There is a recessed Omni-microphone on each ear cup to pick up the ambient sound and amplify the sound below 82dB, you can perceive which side the sound is from. Once the noise exceeds 82dB, the amplification function will turn off automatically and compress the noise to the safe level, the noise reduction rating is 24dB.
3. Adjustable volume wheel
The volume adjustment is a recessed wheel outside the ear cup, you can intuit to adjust the volume flexibly, which is also the On/Off switch.
4. 3.5mm AUX jack for smartphone
This electronic earmuff is with a 3.5mm audio jack, you can connect it to your smartphone by the connection cable to listen to music.
5. Adjustable telescopic frame
The telescopic steel frame can be adjusted to fit your head.
6. Convenient 2*AAA battery power supply
This electronic earmuff is powered by 2*AAA batteries, it is handy to replace them.
7. Replaceable ear pads design
The padded ear cushions and headband are covered with soft leather, and the ear pads are replaceable, you can replace them for any worn.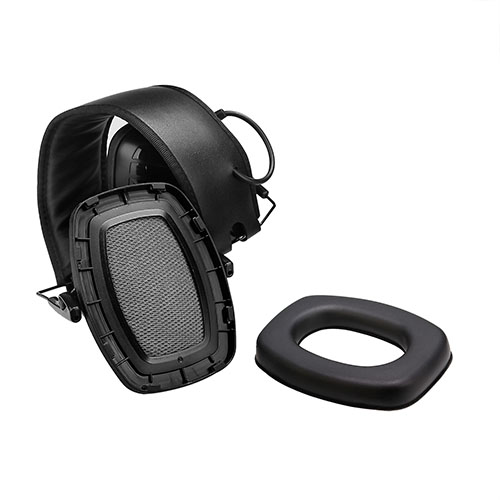 8. Suitable applications
Electronic earmuff is the ideal solution for the indoor and outdoor shooting range, clay shooting, hunting in the field, live-action CS, and more applications, protect the ear from intensive noise and capability of social with people around.
Hope this introducing EHN003 new shooting electronic earmuff helps you to pick up one for hearing protection, if you are interested in it, please don't hesitate to contact us: info@retevisaccessories.com