In so many noisy commercial workplaces that use two-way radios, although the noise may not damage the hearing of the staff, the others can't hear your speaking clearly, which seriously affects the working efficiency. Retevis Accessories is committed to improving the communication efficiency of customers, our new DSP active noise-canceling radio earpiece EEK014 adopts a dual-microphone noise-canceling technology to filter out most of the ambient noise, keeping the transmitting voice is crystal clear in noisy and mission-critical environments.
What are the incredible features of the Retevis EEK014 active noise-canceling earpiece?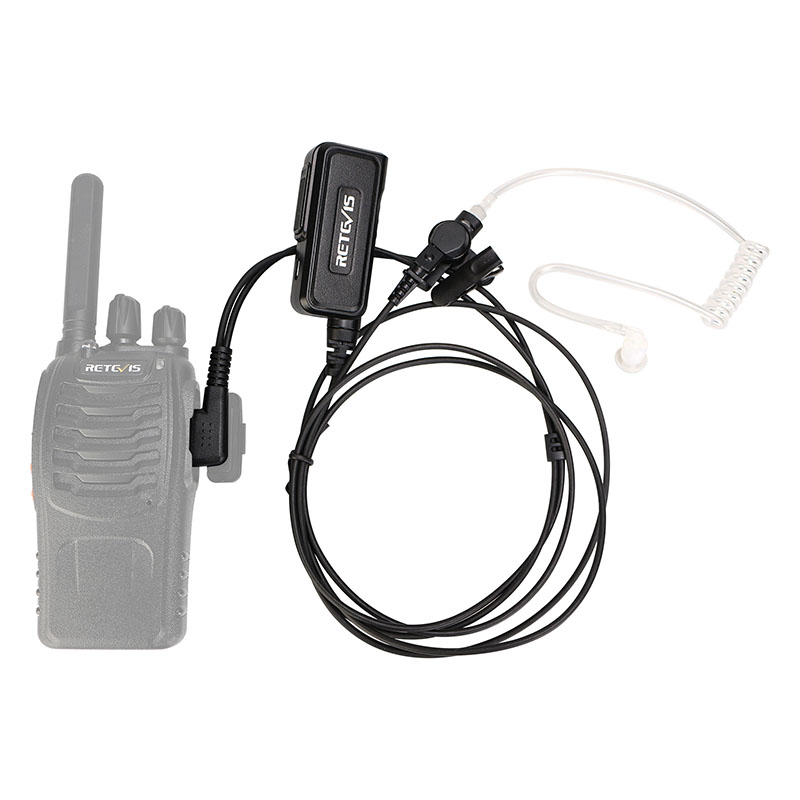 1. DSP active noise-canceling technology
This active noise-canceling covert acoustic tube earpiece adopts the dual-microphone design inside, the top one picks up the speaking voice, the bottom one picks up the ambient noise, and the built-in DSP chip will in real-time analyze, process, and filter the sound collected by the two microphones to achieve the purpose of noise canceling.
2. Independent noise-canceling switch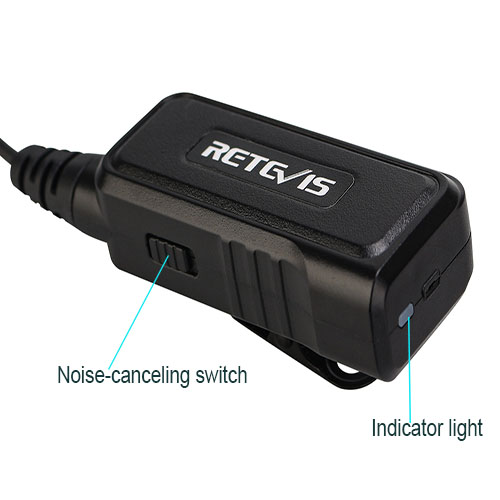 There is a switch to control the noise reduction function, when you work in noisy environments, push it on to activate the noise-canceling function, if in a quiet place, turn off it to work as a common earpiece, saving power for it.
3. Built-in rechargeable battery
The earpiece has a built-in rechargeable battery for the noise-canceling function, with a micro-USB charging port, we will pack a DC 5V charging cable for it.
4. Convenient 2-wire design
This earpiece is a 2-wire design, the flexible second line for the PTT button with a 360-degree rotatable steel clothing clip, you can position it on anywhere of your suit.
5. Quick-disconnect design
The covert acoustic tube segment of this earpiece is detachable and replaceable, if there is a lot of staff using it in the company, it is hygienic to get an extra tube for everyone during the COVID-19 pandemic, inexpensive and convenient.
6. Standard Kenwood 2Pin connector
The connector for two-way radio is the popular K1 plug, which is compatible with most of the band's two-way radios in the market, if you are not sure the earpiece can work with your radio, you can reference the radio connector chart or consult us, we always ready to help you here.
7. A wide range of applications
Due to its effective noise-canceling identity, this earpiece for walkie-talkies is suitable for various noisy environments, such as shopping malls, grocery stores, nightclubs, bars, casinos, crowd control at conventions and concerts, and more.
If you are interested in this new DSP active noise-canceling radio earpiece EEK014, it will be available this week, welcome your inquiry! We also can supply customization service, if your radio uses is with a different connector plug.