In tactical applications, it is important for the teammates to have a headset that not only can protect their hearing from blasts of firearms but also can perceive natural ambient sounds and communicate at the same time, Retevis EHK007 model is one best tactical electronic hearing protection headset just meeting this demand.
What are the marvelous features of the Retevis EHK007 electronic noise reduction headset?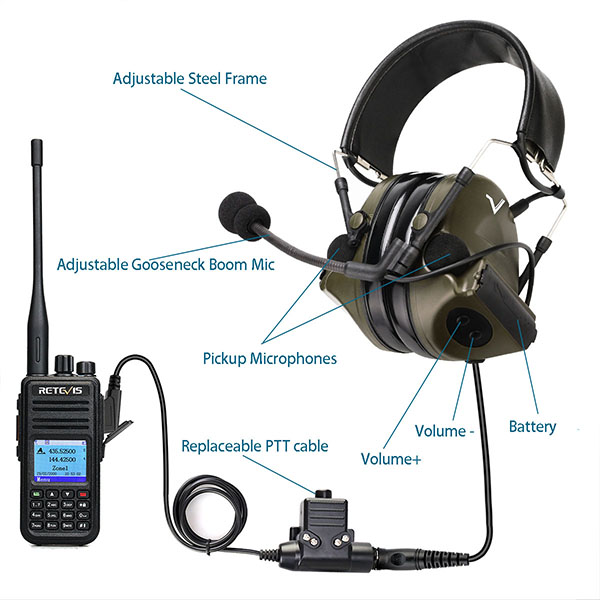 1. Built-in sound-circuit technology chip
When gunfire, blasts, or any background noise is over 82dB, the two microphones on each ear cup will immediately turn off the amplification function automatically, and the internal sound-circuit system will suppress harmful sound to the safe level. Conversely, if the ambient sound is under 82dB, the two microphones will amplify the sound. This headset is powered by two AA batteries, each ear cup is installed with one battery.
2. High noise reduction rating
The NRR of this noise reduction headset can reach 28dB on power-on mode, furthermore, the earmuffs are ultra sealed on your ears, which effectively protects your hearing in high-intensity noise environments, and never worries about your ears ringing afterward.
3. Comfortable and low-profile earmuff design
Ear cushions are padded with the high-quality sound insulation sponge, headband and ear pads are covered with skin-friendly leather, which is still comfortable for prolonged wearing. The ear cups are low-profile design, this headset can be worn with a helmet.
4. Directional and high gain microphones
There is one microphone on each cup and they are Omni-directional and high gain, even if whispers, when wearing this headset you can hear the conversation around you as clear as without earmuffs.
5. Incredible fast attack time/response time
Due to the exceptional sensitivity of the two microphones on each ear cup, once the sudden hazardous noise reaches the threshold, it will be cut out in time, such as blasts of firearms, least damage to your hearing.
6. Digital sound reprocessing technology
This headset adopts the digital sound processing system, the amplificated sound is clearer, louder, and distortion-free.
7. Adjustable volume and frame design
There are two buttons to adjust the volume of the headset freely, turn up the volume by the front/left one, turn down it by the back/right one, there are 4 levels adjustable. Hold both buttons for 3 seconds to turn on/off the electronic headset. The steel frame of the headband has a telescopic segment, you can adjust it to correctly fit your cheek.
8. Enough solid construction
This electronic headset is built with tough plastic ear cups, robust steel frame, and the adjustable gooseneck boom microphone with wind-proof foam, IPX4 waterproof degree. The headset is durable for demanding high noise environments.
9. Radio communication capacity
This headset has a detachable PTT cable design, the connector for the headset is 7.1mm type, the other end can be Kenwood, Motorola, Icom, Hytera, Midland, Vertex Standard connectors for two-way radios, there are 6 kinds of PTT cables that can be replaced, and 14 types of connectors. You can tell us your walkie talkie model, we will match the correct one for you.
10. A broad range of applications
For all these fantastic features, this best tactical electronic hearing protection headset for two-way radio is the ideal solution for applications, such as law enforcement, military training, special forces, shooting range, live-action CS, paintball games, airsoft games, constructions, manufacturing, or other scenes that people have to communicate with around in high ambient noise.
Retevis Accessories is committed to improving the communication efficiency of customers, high-quality, cost-effective, top-notch service are our identities, you can never miss this amazing tactical electronic headset, welcome your enquire! info@retevisaccessories.com