There are so many bestselling Retevis two-way radios' chargers with universal USB charging interface, for customer teams who bought in large quantities, a charger that can charge multiple two-way radios quickly and space-saving will make a huge difference, in order to satisfy their demands, we launched the RTC501 versatile USB desktop rapid charger, this blog will introduce more details about it.
Features of the RTC501 versatile USB desktop rapid charger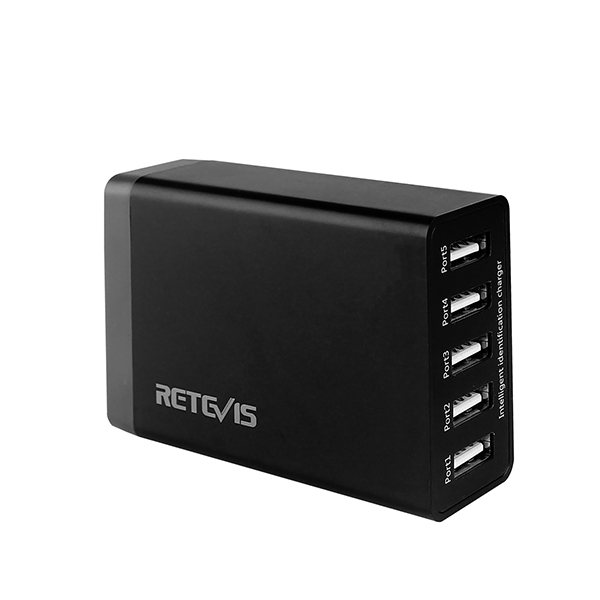 1. Versatile charging ability
The output of each USB port is 5V 2.4 A, all are universal USB ports that are compatible with two-way radios, phones, tablets, and more USB digital products with USB charging interfaces in the market.
2. Rapid rate and space-saving
The charger utilizes smart technology to improve charging speed, saving your time and making sure the up and running of your devices. The 5-in-1 design allows charging 5 different devices at the same time, saving space and outlets, which is ideal for users who have to use multiple walkie-talkies and other digital products with USB interfaces.
3. Multiple standard power adapters
As a global seller, we supply this charger with US, EU, and UK standard AC power plugs, we will ship the version to clients depend on the country in your shipping address. If you have special requirements, please remember to note us.
4. Compact design and light-weight
The dimension of the RTC501 USB charger is 90*58*27mm, which is not only light-weight but also easy to carry and storage.
5. Safety standard
Super against over-voltage, short circuit, overcharge, leakage, overheat, overpower protection, innovation of the PTC thermal over-current protection technique, don't worry about the safety.
Specification:
AC input voltage rating: 100VAC to 240VAC
AC input voltage range: 90VAC to 264VAC
AC input frequency: 50/60Hz
Input current: 0.5A max
Inrush current: 30A max. for 110V/60Hz at cold start (25℃).
Total rated output: 40W 5V 8A
The maximum single-port output: 5V 2.4A
Material: ABS fire-retardant material
Size: 90*58*27mm
Net weight: 126g
The most important point is that the RTC501 versatile desktop rapid charger is significant cost saving for teams on a budget, if you are interested in this USB charger, please don't hesitate to contact us for wholesale price.